Ahmed Jabari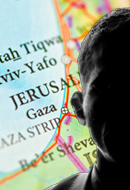 Israel's Friends in Gaza
Thursday, November 29, 2012 by
Alex Joffe
| Jewish Ideas Daily » Daily Features
Hamas was quick to declare victory in the latest conflict with Israel.   A closer look at the price it paid in terms of personnel and equipment shows that its bravado was false.
Editors' Picks
Operation Pillar of Defense: the Live Blog
,
Times of Israel
. Israel scored an early victory, eliminating eliminated Ahmed Jabari and most of Hamas' medium-range rockets.  But Hamas won't give up without a prize of its own.
Israel Targets Hamas
Ilan Ben Zion
,
Elie Leshem
,
Times of Israel
. Responding to rocket attacks from Gaza, Israel has now assassinated the head of Hamas's military wing.  "And this," says an IDF spokesman, "isn't the end of it."