Torah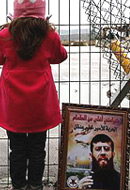 Martyr in Waiting
Friday, March 16, 2012 by
Elliot Jager
| Jewish Ideas Daily » Daily Features
The Palestinian Islamic Jihad operative Khader Adnan, currently under administrative detention in Israel, has announced the end of his 66-day hunger strike in exchange for a commitment by Israeli authorities to set him free on April 17. His pending release raises a moral dilemma.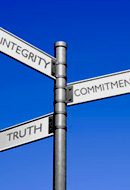 Jewish Ethics, from Ancient Bible to Modern Bus
The next time someone tells you that ethical behavior doesn't need a foundation in religious teaching, step onto an Israeli bus (it doesn't have to be the gender-segregated variety) or open a mass-circulation Israeli newspaper and see how religion puts Jewish ethics on steroids.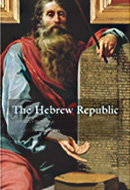 The Dangerous Mr. Nelson
Eric Nelson is a danger to academia. You would not think so from his background. He is the Frederick S. Danziger Associate Professor of Government at Harvard University. He has had a proper education, at Harvard and Trinity College, Cambridge.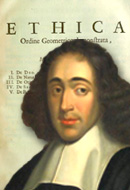 The Pale God
Friday, February 3, 2012 by
Aryeh Tepper
| Jewish Ideas Daily » Daily Features
Imagine God not as a benign force infusing the universe with love and sustaining it with mercy, and not as a stern judge smiting sinners from on high with his cosmic zap-gun, but as a grandfatherly figure, kind but, truth be told, somewhat out of it, sitting in a corner, tolerant of the various paths his children have chosen.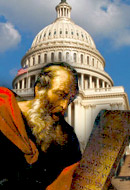 America the Biblical
The Greeks did not invent equality. Socrates, Aristotle, Plato, and the gang famously believed that the rich are different from you and me—not merely because they are shaped by their privileges but because they are actually, literally made of superior stuff.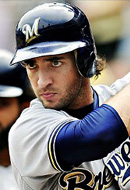 Judaism on Steroids
Monday, January 9, 2012 by
Micah Stein
| Jewish Ideas Daily » Daily Features
Ryan Braun, the reigning MVP of baseball's National League, is having a rough offseason. On December 12, ESPN reported that Braun had tested positive for a performance-enhancing drug (PED) after a league-mandated drug test revealed elevated levels of testosterone in his system.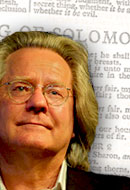 A Humanist Bible?
Monday, December 12, 2011 by
Armin Rosen
| Jewish Ideas Daily » Daily Features
According to Jewish tradition, the Torah was delivered to Moses by God on Mount Sinai thousands of years ago. A.C. Grayling's The Good Book claims humbler origins. That text was given to us by an English philosophy professor this past summer.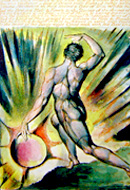 The Holy Land of England
Thursday, November 10, 2011 by
Liam Hoare
| Jewish Ideas Daily » Daily Features
The King James Bible, along with the Book of Common Prayer, Shakespeare, and Milton, transformed the English language, introducing a vibrant lexicon that is used to this day. It also fused biblical mythology with concepts of English national identity.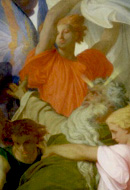 The End of the Torah
Monday, October 17, 2011 by
Michael Carasik
| Jewish Ideas Daily » Daily Features
The Torah begins with a bang—the Big Bang, the creation of the universe. But it ends with a whimper, albeit a whimper concealed by a very loud noise of another kind. Let me explain.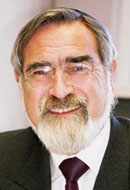 Rosh Hashanah with the Chief Rabbi
Tuesday, September 20, 2011 by
Lawrence Grossman
| Jewish Ideas Daily » Daily Features
Ten years ago, the first day of Rosh Hashanah—the two-day Jewish New Year—fell on September 18. That was one week after September 11, 2001, when almost 3,000 people were killed by Muslim terrorists. On that Rosh Hashanah, rabbis did not lack for sermon topics.