Hebrew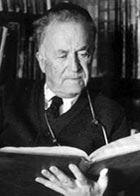 Agnon
Thursday, February 25, 2010 | Jewish Ideas Daily » Daily Features
In 1966 a diminutive man, a large black kippah perched on his head, was awarded the Nobel Prize for literature. His acceptance speech, delivered in the lilting cadences of his native Galicia, brimmed with allusions to holy texts, conjuring up an evanescent aura of piety and sacred longings. Yet underneath that kippah, and vibrating in the spaces between the ancient Hebrew words, was one of the most cunning minds and radical pens in Jewish literary history. Born Shmuel Yosef Czazkes in the town of Buczcacz, S. Y. Agnon, who died 40 years ago today at the age of eighty-one, moved to...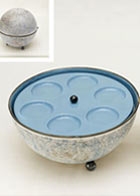 Judaica by Design
Wednesday, February 17, 2010 | Jewish Ideas Daily » Daily Features
"Art for art's sake"—the idea that works of art must be judged solely on their own terms, apart from any considerations of moral, religious, or civic value—has by now become largely devoid of meaning, especially as so many artists openly hitch their work to one or another of today's political wagons. But with the lapsing of the polarities to which the phrase once gave rise, in particular those between art and religion, it has also become possible for newer generations of artists to turn their talents unapologetically to religious motifs. The results, as several recent exhibits suggest, are both intriguing and markedly uneven. Reinventing Ritual, a show from last fall at the...