Agnon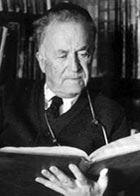 In 1966 a diminutive man, a large black kippah perched on his head, was awarded the Nobel Prize for literature. His acceptance speech, delivered in the lilting cadences of his native Galicia, brimmed with allusions to holy texts, conjuring up an evanescent aura of piety and sacred longings. Yet underneath that kippah, and vibrating in the spaces between the ancient Hebrew words, was one of the most cunning minds and radical pens in Jewish literary history.
Born Shmuel Yosef Czazkes in the town of Buczcacz, S. Y. Agnon, who died 40 years ago today at the age of eighty-one, moved to Palestine in 1908. Four years later, not quite suited to the pioneering milieu, he left for Berlin, in whose culturally vibrant atmosphere he thrived. In 1924, a fire having destroyed his home, library, and manuscripts, he headed back to Jerusalem; again his home would be destroyed, this time in the Arab riots of 1929. Rebuilding, he kept up a stream of novels, stories, and sketches. A visit to his native Buczacz in 1930 was the basis for a haunting masterpiece, A Guest for the Night (1937), considered his greatest novel alongside Only Yesterday (1945), a panorama of early 20th-century Palestine. Agnon's lifetime productivity continued unabated until his death; his posthumous output may have been every bit as large.
Agnon mined the whole of Jewish literature, sacred and secular alike, and all the world literature he could find, to forge the deceptively traditional idiom with which he created his unique imaginative world. His pages mix deadly realism with haunting fantasy, humor with anguish, nostalgic lyricism with bitter irony and social critique with spiritual ecstasy. His portraits of traditional Jewish society are as merciless as they are loving; his observations of his own time and place cut to the quick.
The fabulist was also a chronicler. Like his Hebrew predecessors H.N. Bialik and Micha Berdyczewski, he eventually turned to anthologizing. In that medium, writing in his distinctive style, he would preserve the vast legacy he had himself inherited and bequeath to future readers (and writers) the textual resources with which to follow him. In perhaps his greatest such compilation, The City and the Fullness Thereof, he returned once again to Buczacz, preserving in language a world now irretrievably gutted and lost.
COMMENTS
Comments are closed for this article.