Bible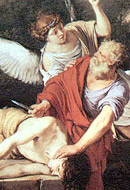 Whose Akedah Was It, Anyhow?
Friday, October 26, 2012 by
Moshe Sokolow
| Jewish Ideas Daily » Daily Features
Today, October 26, 2012, the world's Muslims will celebrate `Id al-Adha, commemorating Abraham's willingness to demonstrate his love of God by sacrificing his son.  While most Muslims assume that the son Abraham intended to sacrifice was Ishmael, this was not the unanimous opinion of early Muslims and Qur'anic scholars.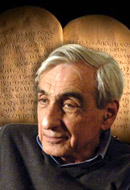 Biblical Politics
Tuesday, October 23, 2012 by
Alan Mittleman
| Jewish Ideas Daily » Daily Features
Michael Walzer is a pivotal figure in the recovery of the Jewish political tradition.  From his early book, Exodus and Revolution, which traced the impact of the Exodus story on Western politics, through his editorship, with Israeli colleagues, of the projected four-volume Jewish Political Tradition, Walzer is almost unrivalled as a scholar of Jewish political thought.
Noah: Viticulture, Viniculture
The first vineyard, the first glass of wine, and (no doubt) the first hangover. (Click here for source sheet.) Download | Duration: 00:10:36
B'reishit: You and I
When God said, "Let US make man" . . . who was He talking to? (Click here for source sheet.) Download | Duration: 00:10:49
V'zot Hab'rakhah: Where the Bodies are Buried
The strange and confusing name of the place where Moses was buried. (Click here for source sheet.) Download | Duration: 00:10:18
Ha'azinu: Nobodaddy
So you're worshipping an un-god? Then God will get Himself an un-people. (But what is that?) (Click here for source sheet.) Download | Duration: 00:11:10
Vayelekh: God's Witness
Moses writes down a poem to be God's witness against the Israelites—or is he writing down the entire Torah? With a bonus from Joshua 1. (Click here for source sheet.) Download | Duration: 00:11:22
Nitzavim: The Quad Cities of Sin
Everyone knows about Sodom and Gomorrah—but what were Admah and Zeboiim? (Click here for source sheet.) Download | Duration: 00:11:44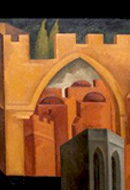 The Hebrew Bible and the Human Mind
Yoram Hazony has a bone to pick with Tertullian, the second-century Christian theologian who asked, "What has Athens to do with Jerusalem?"
Ki Tavo: Conceptual Chronology
Mysteriously, the Israelites are exiled in the middle of Deuteronomy 28 but are still in their land as the chapter goes on. Is the Torah always written in chronological order? We'll let Nahmanides and Abarbanel tackle this problem. (Click here for source sheet.) Download | Duration: 00:12:08