Bible
Devarim: Untimely Farewell
Wednesday, July 14, 2010 by
David Hazony
| Jewish Ideas Daily » Weekly Portions
Standing in the desert of Moav, poised to send the Israelites into the Promised Land without his own titanic presence to lead the way, Moses begins his last and greatest speech.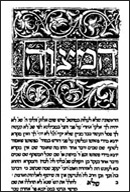 Typography
Thursday, July 1, 2010 by
Yehudah Mirsky
| Jewish Ideas Daily » Daily Features
In the Book of Genesis, the Hebrew language is the very stuff of creation. The Talmud tells us (Menahot 29b) that Rabbi Akiva would derive new laws from the "crowns" of Hebrew letters. In the Kabbalah, the shape of the letters is said to reflect the shape of God's own inner being. What type of type can do justice to any of this?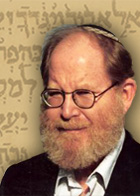 The Importance of Moshe Greenberg
Thursday, June 3, 2010 | Jewish Ideas Daily » Daily Features
On May 15, a giant of Jewish Bible scholarship passed away in Jerusalem at the age of eighty-one. American-born and -educated, Moshe Greenberg combined classical erudition in ancient Near Eastern languages and rabbinic and medieval exegesis with the critical perspectives of modern scholarship, analytical deftness, and literary style. He brought all these to bear on the ancient texts to elicit both knowledge and moral and spiritual guidance.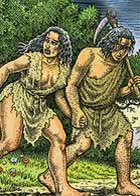 Talking Pictures
Friday, February 5, 2010 | Jewish Ideas Daily » Daily Features
Ever since Art Spiegelman's landmark Maus (1986), comics and graphic novels have established themselves as a new form of visual-cum-verbal midrash. The best of them, re-imagining texts and the events of history, point beyond themselves. If Spiegelman paid tribute to his father, a survivor of the Holocaust, the hero of Joann Sfar's The Rabbi's Cat is witness to the vanished Jewish culture of Algiers. Other cartoonists have tackled the text of the Bible, as eloquent as it is famously laconic. R. Crumb (of Fritz the Cat) has recently published his take on the Book of Genesis, rendered in his trademark mix of burlesque, Blake, and...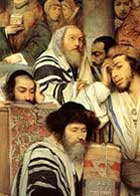 Let Us Pray
Friday, January 22, 2010 | Jewish Ideas Daily » Daily Features
"Rabbi Shimon said: make not your prayers a fixity, but a plea." The inevitable tension in prayer between practice and passion, between communal structure and the lone voice, was certainly known to the biblical prophets and the rabbis of the Talmud. Yet today, the traditional prayers—profoundly communal and reflecting ancient ideas of monarchy, patriarchy, and retribution, sometimes in complicated Hebrew—seem alien to many. If the test of contemporary Judaism is whether it offers a compelling personal experience to "the Jew within," a common liturgy becomes more difficult to maintain than ever before. And so, the project of renewing the Siddur—the Hebrew...