Ancient Israel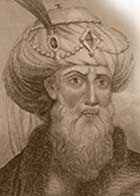 Jewish Wars, Then and Now
Monday, January 11, 2010 | Jewish Ideas Daily » Daily Features
A masterwork of historical writing, The Jewish Wars by Yosef ben Matityahu, better known by his Roman name of Flavius Josephus (37–ca. 100 C.E.) is a massive and indispensable chronicle of Jewish fortunes from the Hasmonean Revolt in the second century B.C.E. through the destruction of the Temple and the fall of Masada in 73 C.E. It is also the autobiography of an extraordinary and extraordinarily conflicted man. Military leader, historian, biblical interpreter, negotiator, diplomat, neither martyr nor traitor but something in-between, Josephus traversed a route from battlefield commander in the war against Rome to Roman citizen and favored beneficiary of imperial...

Temple & Synagogue
Wednesday, December 16, 2009 | Jewish Ideas Daily » Daily Features
The structure defiled by the pagan Greeks in the rabbinic story of the miracle of Hanukkah was a replacement building for the First (Solomon's) Temple, destroyed by the Babylonians in 586 B.C.E. The replacement was itself replaced by the magnificent Second Temple, completed by King Herod around 20 B.C.E. and in turn destroyed by the Romans 90 years later. By then, the centralized model of Temple worship with its sacrifices had already begun to be supplanted by prayer worship in small synagogues both inside and outside the Holy Land. Although the precise architecture of Solomon's Temple can only be guessed at,...