A Zionist Who's Who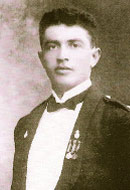 The state of Israel, like the Zionist movement in all its forms—political, cultural, artistic, religious—was an astounding collective creation. The famous names are known: David Ben-Gurion, Chaim Weizmann, Ahad Ha-Am, Abraham Isaac Kook, and the rest. So are the slightly less famous ones: Berl Katznelson, A.D. Gordon, Moshe Sharett, Henrietta Szold. But what about all the others?
Relevant Links
Scenes of Jewish Palestine
Mizrah Film.
From the Bezalel Art Academy to Rachel's Tomb to the Jordan River to a school festival in Rishon L'tzion: footage shot by a Russian team in 1913. (Video; part 5 of 7, with section titles in English and narration in Hebrew.)
Fortunately, thousands of these others, and their stories, reside in an astonishing labor of love: the nineteen-volume Hebrew Encyclopedia of the Founders and Builders of Israel, published between 1947 and 1970. Many of its 6,000 entries provide the only information we have about their subjects. The work itself, which has now been digitized and is available for free online, was created by a fascinating cast of characters, starting with David Tidhar, the main one.
Born David Todrosovitz in Jaffa in 1897, Tidhar served during World War I in the Jewish Legion and then in the British-sponsored Palestine Police. In 1926, he opened the country's first private-detective agency, thus gaining a panoramic view of the developing Yishuv (the Jewish community of pre-state Palestine) from the top down and the bottom up. In 1931, with Shlomo Ben-Yisrael, he became the co-author and fictional protagonist of the first Hebrew detective stories, featuring, as one critic has written, "a land of Israel teeming with crazed scientists, movie stars, Communist spies, gangsters, cursed archeologists, refugees from every corner of the world, and more."
Though the series was wildly popular, Tidhar grew tired of it and went back to sleuthing. (His research assistant was one Uri Avnery, then a young radical rightist, today the aging agitator of Israel's radical Left.) In the mid-1940s, most of which he spent as an investigator for the British army and a mediator among the Yishuv's various self-defense organizations, Tidhar initiated a Hebrew biographical series entitled Library of the Early Ones, edited by his friend, the literary scholar Yaacov Churgin. When another friend suggested turning the series into an encyclopedia, "I said to myself, a project like this should be the work of a panel of experts. . . . But if we waited for that panel, for decisions, endowments, the project would be pushed off for ages." Hiring a research staff, Tidhar set to work, mailing questionnaires, poring over books, documents, and tombstones, and collecting oral histories from everyone he could think of.
He was not the first to undertake such a labor. Beginning in the 1890s, Pinhas Grayevsky brought out valuable collections of biographical sketches and other documents related to Jerusalem (some of which are now being reprinted by the Yad Ben-Zvi press). But Tidhar's project was far more ambitious and, thanks to its questionnaires, a touch more methodical. Categories listed in the Table of Contents include the familiar and familiarly heroic, from pioneers and farmers to writers and journalists, rabbis, scientists, and educators, as well as the less familiar and less heroic: bankers, lawyers, Ottoman and British officials, employees of Baron Rothschild.
The volumes themselves are chaotically organized; as Tidhar writes in the Introduction, he put them together as the material came in. Sometimes there is a connection among consecutive entries, sometimes not. In Volume I, for example, the biography of Joshua Stampfer, who came to Palestine on foot from Hungary and in 1878 became a founder of Petah Tikvah, the first agricultural settlement, is followed by that of Mordechai Solomon, a builder of Jerusalem's Hurva synagogue and father of Yoel Moshe Solomon, who was a colleague of Stampfer's, but also by that of a Slonimer Hasid who in the early 1900s established Safed's first nursing home and girls' school.
The serendipities continue: In Volume II, Joseph Klausner, Zionist historian and editor of the Hebrew Encyclopedia, appears alongside Samuel Wilson, a Russian-born builder who came in 1909 at age forty from Hartford, Connecticut to fill a number of municipal posts in young Tel Aviv. In Volume IV, Sarah Czizyk, killed in 1920 at age twenty-three in the defense of Tel Hai is on the same page as Abraham Schag, an Orthodox businessman and founder of three neighborhoods in Jerusalem.
Some lives are more obscure than others. Haya Gittel Bassan (Volume III), daughter of Jerusalem's first typesetter, ran a grocery store near the Temple Mount and died just short of a century old in 1939. And some periods are more obscure, especially that of the "Fourth Aliyah" from 1924 to 1928, regularly overshadowed by the intensely ideological three that preceded it and the Fifth, stirred by the rise of Nazism, that followed. The Fourth Aliyah was by and large the most bourgeois, domesticated, and least dramatic of all; but it contributed mightily to the creation of the workaday institutions and socio-economic base of the state-in-the-making (while also exhibiting the highest rate of out-migration). The often-scanted role of Mizrahi and Sephardi Jews in building the Yishuv is likewise well-represented here, as are Zionism's principled critics, whether of the Orthodox or binationalist stripe.
One is frankly left in awe at the sweep of this astoundingly diverse group of Jews, all united by their role—however they played it—in forming the new Jewish presence in the land of Israel. In an Afterword, Yaacov Churgin writes that the work "was a direct result of [Tidhar's] unique ability to engage with all the layers of the Yishuv, high, low, men of letters and of affairs, the whole human tapestry, seamless in some places, knotted in others." And he charges future generations of readers: "All you find here . . . none of it arose magically by itself, but is a wondrous mix of simple faith, audacity, sweat, with a strong element of unconscious national impulse."
How does it all look from today?
In 2005, Muki Tsur, a leading kibbutz intellectual, published a collection of essays entitled Distant Lights. In the title essay, meditating on his nocturnal conversations with young Israelis on the shore of the Kinneret, Tsur asks of those faraway and increasingly dim "lights": "Did they come from early days, so different, so promising, so hidden and torn?. . . . Have they grown distant from old age, or been dimmed by the pale neon lights of our times?"
Tidhar's project brings to vivid life a story we have been handed, the collective lifework of so many. What will we do with all that they created? What will we ourselves do by the glow of those distant lights?
Tags:
Education
,
Faith & People
,
History
,
Israel
,
Israel & the Near East
,
Jewish Thought
,
Leading Figures
,
Modern Times
,
People & Places
,
Political Thought
,
Zionist Thought
COMMENTS
Comments are closed for this article.