High Season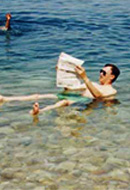 Everywhere one goes, Jerusalem is crowded with visitors. Hotels are near capacity. The streets are jam-packed with tour buses. So far this year, 2.2 million tourists have visited the country. August was one of the best months ever, but tens of thousands more have now arrived for the Sukkot holiday, among them 7,000 evangelicals from 100 countries to celebrate the Christian Feast of Tabernacles. Hanukkah and Christmas promise still more.
Relevant Links
Pilgrims in Jerusalem
Ron Friedman
,
Jerusalem Post.
The festivities revolving around the Feast of Tabernacles have brought throngs of Christian visitors. Is Chinese tourism the next big market?
Of course, sojourning to the Holy Land is nothing new, having been practiced from time immemorial by Jews, Christians, and Muslims. In ancient times, Diaspora Jews made pilgrimages to the Temple in Jerusalem. During the era of the Crusades, Benjamin of Tudela, journeying thither and yon from Spain, chronicled Palestine's remnant Jewish civilization. Judah al-Harizi reported in 1218 that the Muslims had bettered conditions for the local Jews. The travelogues of Evliya Çelebi, a Muslim Turk, recount the 1584 exodus of Safed's Jews after incessant Arab and Druse assaults. Throughout the centuries, numbers of Jewish visitors would stay on to settle in the land, while others, preeminently Theodor Herzl in 1898, would go back to organize the systematic return of the Jewish people to their homeland.
Many visitors to 21st-century Israel come out of religious conviction. Of this year's arrivals, about half are on a repeat visit. The single biggest source of tourists is the United States: some 538,000 Americans came last year, almost a quarter of the total. And yet 60 percent of U.S. Jews have yet to visit Israel—in contrast to their British coreligionists, of whom 95 percent have visited at least once. Somewhat brightening the American picture, over 230,000 young people, mainly from the U.S., have come on subsidized Birthright programs in the last ten years.
Whatever the impetus, and whatever their origins, once in the country tourists can't help being struck by the contrasts contained in its 10,000 square miles: about the same area as the state of New Jersey. In a matter of hours one can drive from snowcapped Mount Hermon in the northern Golan Heights to the Negev desert in the south. One can even hike the nine or so miles from the Mediterranean coast and cross the 1949 armistice lines into the West Bank. From atop a mountain ridge in Samaria one can scan metropolitan Tel Aviv, where the bulk of Israel's population is concentrated.
Such experiences yield keen geostrategic insights. But they are hardly the only attraction: untold numbers come for the rewards of sun, sea, and recreation. All told, it is little wonder that one in every twelve jobs in Israel is tourism-related, or that the industry is expected in 2010 to contribute 7.2 percent of the country's GDP.
Precisely because tourism has such enormous political, economic, and psychological ramifications, it is a sector long targeted by Israel's enemies. In 1972, the Popular Front for the Liberation of Palestine murdered 26 people, including sixteen Christian pilgrims from Puerto Rico, at the country's airport. In 2000, following an excellent year for tourism, the Palestinian Arab leadership unleashed its second intifada, hitting cafes, restaurants, public transportation, even a Passover Seder at a Netanya hotel. The onslaught led to a dramatic drop in visitors; in June 2001, after a gruesome Tel Aviv nightclub bombing, the American Reform movement canceled its Israel youth programming. Those who continued to come during those dark days were disproportionately religious Jews and Christians.
Israel's detractors in the West have also invested heavily in boycotts aimed at dissuading academics, musicians, athletes, and ordinary people from visiting. Incredibly, the British Advertising Standards Authority was persuaded to ban Israel's ministry of tourism from depicting Jerusalem's Western Wall and Temple Mount in its UK advertisements. Even so, however, and despite everything, millions of travelers continue to come, thumbing their noses at the international campaign to defame and isolate the Jewish state, and dramatically avowing their confidence in its future.
COMMENTS
Comments are closed for this article.