UNIFIL: Peacekeepers or Enablers?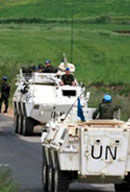 The response of the civilized world to events in southern Lebanon—where Hizballah, in preparation for its next act of aggression, is reportedly digging tunnels at the border with northern Israel—is doubly revealing. It says much about the non-enforcement of international law in an area dominated by Islamist irregular forces. And it is a reliable indicator of what might happen if, in the event of an agreement between the Palestinian leadership and Israel, international peacekeepers were to be stationed in the West Bank and Gaza.
Relevant Links
Hizballah Back in Control
Avi Issacharoff
,
Haaretz.
Four years after the Second Lebanon War, the Shi'ite militia has more than rebuilt its military capabilities across from Israel's northern frontier.
UN Peacekeepers Face Tensions
Reuters.
Ban Ki-Moon's latest report to the UN Security Council concedes reason for "doubt on the motives of those [civilians] involved" in incidents against UNIFIL troops.
The UN Interim Force in Lebanon (UNIFIL) has been an ineffective presence in south Lebanon dating back to 1978, when the area was subjugated by Palestinian gunmen. But in 2006 the force's mandate was enlarged under Security Council Resolution 1701, which ended the Second Lebanon War, to include monitoring the ceasefire between Israel and Hizballah and supporting a 15,000-strong contingent of Lebanese troops south of the Litani River. The resolution, which has no real enforcement mechanism, also calls for the disarming of "all militias" (read: Hizballah) and an end to arms smuggling (meaning from Syria and Iran to Hizballah). But the militia is booming, and the smuggling is unabated.
Meanwhile, only 6,000 Lebanese troops have been deployed; anticipating trouble with Hizballah, they have been known to refuse to accompany UNIFIL in carrying out maneuvers that could rile the terrorist militia. After a recent incident in which weapons of French peacekeepers were seized, a UNIFIL officer was wounded, and an armored vehicle was vandalized by "villagers," Beirut promised to send 5,000 more soldiers to the south and France has reportedly offered to bolster its presence. But the UN has yet to respond to France's offer, and all it could muster in response to the "villagers'" depredations against its forces was a limp Security Council plea, addressed to no one in particular, for ensuring the "safety and freedom of movement of the peacekeepers."
"We are fully aware of the problems [UN] military operations in civilian areas may cause," said UNIFIL commander Alberto Asarta Cuevas at a meeting with village chiefs to urge greater "dialogue" with his peacekeepers. No doubt. With any number of private homes serving as Hizballah arms depots, or sitting astride bunkers and command centers, unrestricted UNIFIL access would clearly have the potential to cause friction.
The Israeli army recently declassified intelligence it has gathered concerning Hizballah's deployment in southern Lebanon and handed its findings to the UN. According to the IDF's copious documentation, Hizballah has positioned weapons caches less than 200 feet from schools and hospitals, embedded some 20,000 militia members inside 160 villages, and camouflaged 40,000 short-, medium- and long-range missiles—the last being capable of striking Tel Aviv. In the village of Khiam, located twelve miles from the Israeli city of Kiryat Shmona, there are no fewer than ten weapons-storage facilities. Also operating in the area, unhindered by UNIFIL, are Iranian military advisers.
UN Secretary-General Ban Ki-Moon responded to the IDF's revelations with a stern rebuke—of Israel. He holds Jerusalem to blame for raising "the specter of a miscalculation by either party leading to a resumption of hostilities, with potentially devastating consequences for Lebanon and the region."
In fact, the IDF may have had a much more specific aim in mind, and Ban Ki-Moon may have guessed it. By publicizing some of what it knows about Hizballah's deployment of forces amid the civilian population in south Lebanon, Israel may intend to signal that, in any future round of fighting, non-combatant casualties will be the legal and moral responsibility of Hizballah—and, ultimately, of UNIFIL itself, the body charged with preventing the very situation it has permitted to develop.
Beyond the case of southern Lebanon, the utter lack of any international will to disarm Hizballah, or to penalize Syria and Iran for unlawfully arming it, delivers a stark lesson to Israelis about the folly of delegating their country's security, particularly in the West Bank, to peacekeepers under the aegis of the United Nations, NATO, or any other international body.
COMMENTS
Comments are closed for this article.