In the Garden of Eden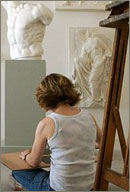 The history of Israeli visual art begins, long before the establishment of the state, with the 1903 opening of Bezalel, an undersized but ambitious art and design school in Jerusalem. A little over a century later, Israel is bursting with academies, museums, galleries, architectural sites, and artists of all kinds. Or almost all kinds.
Relevant Links
A Singular Academy
YouTube.
In Israel's—and not just in Israel's—current artistic milieu, the Jerusalem Studio School stands out. (Video)
Over the decades, the contours of Israeli art have been determined as much by regnant movements in international art and cultural politics as by native imperatives like the Zionist project, the land of Israel, or the fate and destiny of the Jewish people. Lately, and in step with advanced art-world fashion elsewhere, the dictates of mid-20th-century abstraction have largely given way to postmodernist realism, often wedded to reflexive gestures of social and political "protest." Conspicuously missing all along has been a serious dialogue with the Western artistic past, a devotion to classical aesthetic ideals, or a familiarity with classical techniques of representation. The late Avigdor Arikha, the lone Israeli artist to receive international recognition for his figurative painting, was the exception who proved the rule, having lived and worked in Paris and remained a stranger to the Israeli art scene.
Enter Israel Hershberg, an American figurative painter represented by the Marlborough Gallery who immigrated to Israel in the 1980s and in 1996 established the Jerusalem Studio School. In the brief fourteen years of its existence, the school has produced a number of first-rate Israeli painters, including Sharon Etgar and Rita Natarova, as well as attracting artists from abroad.
The Studio School sits modestly on the top floor of a building on Jerusalem's industrial south side. Guest teachers and advanced students handle the greater part of the instruction, with Hershberg teaching once a week. The real learning, however, takes place through osmosis, or what Hershberg calls "sustained physical contact" with the classic works of the Western tradition.
He has fashioned three strikingly old-fashioned means to facilitate such contact. In the school's "Hall of Casts," thirty-two plaster replicas of Greek, Roman, and Renaissance masterworks afford students the opportunity to familiarize themselves, at length and at close quarters, with some of the most beautiful sculptures ever created. Next, students are trained to copy and transcribe the work of Old Masters. Finally, each summer the school relocates for two months to Italy, where students are immersed in a visual culture that is itself, in Hershberg's phrase, "completely integrated": an environment where art is everywhere.
Exposure to the Italian scene can exact a steep price: four students have been sent home with "Stendhal Syndrome," a documented psychological condition in which one is overpowered by a surfeit of artistic beauty. Just as some Western visitors to the Holy Land fall prey to "Jerusalem Syndrome," Hershberg thinks that Israeli students, accustomed to the sparser visual atmosphere of their native country, are particularly susceptible to "Stendhal Syndrome," which can turn their world upside-down and induce panic and despair.
Unsurprisingly, Hershberg is at odds with many establishment art institutions in Israel when it comes to the meaning and purpose of art. Ultimately, he wants to raise a generation of Israeli artists purged of preconceived attitudes and ideologies and trained to see the world afresh, as strangers. For a true painter, he believes, reality is a continual feast, a never-ending delight to the eyes—a subject on which he likes to quote the late American figurative artist Albert York: "I think we live in a Paradise. . . . This is a Garden of Eden."
Curiously, reconstituting the Garden of Eden is one of the deepest impulses of the Jewish imagination. No less curiously, for Hershberg the path to the Garden of Eden, and the one he wants to lead his students along, is the path delineated by Rubens, Titian, Michelangelo, and Praxiteles.
COMMENTS
Comments are closed for this article.