Gilad Shalit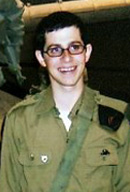 Today marks four years since Palestinian infiltrators tunneled their way from Gaza into Israel, opening fire on an open-hatched tank, killing two IDF soldiers, and taking the third, Gilad Shalit, prisoner. Before long, Hamas announced it was prepared to exchange Shalit for 1,000 Palestinian security prisoners held by Israel. Then-premier Ehud Olmert declared that Jerusalem would not give in to blackmail. "We will hold no negotiations over the release of prisoners." That was then.
Relevant Links
Civilians First
Assaf Sagiv
,
Azure.
Only in Israel does concern for the safety of soldiers override the state's obligation to defend its civilians—notwithstanding that previous prisoner releases have proved disastrous.
Ransoming Gilad Shalit
Evelyn Gordon
,
Commentary.
No political leader in Israel is likely to have the courage to resist overwhelming public pressure to trade large numbers of terrorists for one soldier.
Over the ensuing years, Israel has found no way to rescue the young soldier, despite his being held within driving distance of the Ministry of Defense in Tel Aviv. No amount of leverage exerted has been able to dislodge Hamas from its original demands—not the hundreds of Palestinian fighters killed by Israel since the capture, not the imprisonment of Hamas's West Bank leadership cadre, not the immense suffering the Islamists have brought down on the civilian population living under their yoke.
In the meantime, the Shalit family, abetted by empathizing parents, scores of Israeli pundits and politicians, and a worldwide campaign—boilerplate calls for the soldier's release have become routine in innumerable international declarations—has been pushing for any approach, including capitulation, to free their son. Fears for his welfare have been exacerbated by Hamas's refusal to allow visits by the Red Cross—whose position is that Hamas, as a non-state actor, is under no obligation to allow such visits.
And so the Israeli posture has shifted from a categorical refusal to trade imprisoned terrorists to haggling with Hamas, via Egyptian and latterly German intermediaries, over the contours of such an exchange. Now Prime Minister Binyamin Netanyahu has explicitly confirmed that Israel will acquiesce in the release of Hamas's 1,000 prisoners, just as was demanded over 1,460 days ago. Bargaining is reportedly stalled over which prisoners are to be freed and where they will be allowed to find refuge.
Few Israelis would dispute that releasing busloads of terrorists will strengthen Hamas, endanger Israeli civilians, and weaken Arab elements competing with the Islamists for the allegiance of the Palestinian masses. But as Assaf Sagiv has noted in Azure, the IDF is a citizens' army, its fighters the nation's "children," and the tacit contract between state and soldier states that the fighter's interest takes precedence over the civilian's.
In this sense, the Shalit saga is a microcosm of the quandary confronted by Western civilization as a whole: can societies that cherish life and prize liberty abide the sacrifices necessary to overcome the forces of extremist Islam? At the excruciating epicenter of this conundrum stands Israel, alone. It has already freed hundreds of Arab prisoners in goodwill gestures, to which Hamas, under no countervailing domestic pressure, has responded by releasing a single video of Shalit. Now, having essentially lifted the blockade of Gaza due to EU pressure, Jerusalem has few cards left to play.
COMMENTS
Comments are closed for this article.