Jordan's Dilemma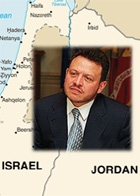 King Abdullah II returned home from Washington earlier this month, having attended a two-day Nuclear Security Summit and becoming the first Arab leader to visit the Obama White House. Photographs showed the king and the president smiling and looking relaxed. Ostensibly, Abdullah urged Obama to put forward his own plan for resolving the Israel-Palestinian "tinderbox."
However sincere the king's interests in a settlement may be, they are by no means straightforward. In a subsequent interview with the Chicago Tribune, he predicted that, since the 2002 Arab Peace Initiative is set to expire in July, and since "Israeli Prime Minister Benjamin Netanyahu is not interested in peace," a Middle East war this summer is inevitable. On Iran's quest for nuclear weapons, the king professed to be sanguine: "If you solve the Israeli-Palestinian problem, nobody needs a nuclear weapon."
It is indisputable that the 1994 Israel-Jordan peace treaty has devolved into a decidedly frosty relationship. The king claims that ties with Israel have never been weaker. Even as his kingdom continues to enjoy trading benefits from the peace, he asserts that economically Jordan was better off "before my father signed the peace treaty." And even as news reports circulated of Iranian SCUD missiles being shipped across Syria to Hizbullah-dominated Lebanon, the Jordan Times was accusing Israel of fixing to start another war—despite what the paper described as the prevailing regional "calm."
The true source of Abdullah's worries may lie elsewhere than in alleged Israeli bellicosity. In an earlier interview with the Wall Street Journal, he expressed his suspicion that Israel intended to "push" West Bank Palestinians into his country; Jordan's foreign ministry recently went so far as to summon the Israeli ambassador to protest, "harshly," a nonexistent "West Bank expulsion rule." With a population that is already majority-Palestinian, the Hashemite kingdom has long feared being taken over entirely—which is why Abdullah's father Hussein ceded the West Bank to the PLO in 1988 during the first intifada. Though his son continues to see himself as the defender of Muslim and Christian holy places against "continued [Israeli] provocations," he emphatically does not want to resume responsibility for the territory.
What does Jordan want? Above all, it wants the refugee issue to be resolved outside its realm. In the judgment of Assaf David, a Hebrew University expert, the king is both genuinely interested in an Israel-Palestinian peace accord and simultaneously fearful that it will permanently codify the Palestinian refugee presence within Jordan itself and thereby pose a mortal threat to Hashemite rule. Therein lies the Jordanian dilemma.
COMMENTS
Comments are closed for this article.