Remembering the Fallen, and Why They Fell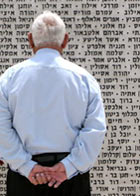 The ten days from last week's Holocaust Remembrance Day (Yom Hashoah) through today's Memorial Day (Yom Hazikaron) to tomorrow's Independence Day (Yom Ha'atzma'ut) constitute, for Israelis and many Jews worldwide, a passage in which the theme of death and loss plays an inevitably central role. The evolution of that theme over the years has come to be reflected in poetic texts and liturgies whose meaning has itself evolved in Israeli and Jewish consciousness.
Perhaps the most famous of these texts is Magash Hakesef ("The Silver Platter") by the poet Natan Alterman, the centennial of whose birth is being marked this year. The poem, a meditation on Chaim Weizmann's comment that "no state is ever given on a silver platter," envisages the Jewish nation rising to mark the miracle of its renewed independence. Confronted by two ghostly, haggard youths, it asks them to identify themselves. We two, they explain, "are the silver platter/ on which the Jewish state has been given to you."
Alterman's poem was written and published in December 1947, just as the euphoric flush of the UN partition vote on November 29 was giving way to the first clashes of what, by May 14, would become full-fledged war. Was it an elegiac note to victory, or a morbid—and deadly accurate—prophecy of things to come, and to come again? Increasingly it has been seen as the latter.
Another enshrined poem of the 1948 period was Haim Guri's Bab al-Wad, commemorating those who died trying to break the Arab siege of Jerusalem. Set to music early on and recorded multiple times, it has long been a staple of the Israeli airwaves on Memorial Day. Like other early Israeli poets, Guri aspires to the power and mystery of religious texts without explicit reference to God, tradition, or the rabbinic sources with which he himself is deeply familiar. This was very much in keeping with the spirit of the Zionist revolution against Diaspora Judaism and its sorrowful past.
Yet that rebellion, and the principled forgetting that accompanied it, has hobbled Zionism's ability to sustain itself and its inner resources. Over time, the memorial songs achieving canonical status have become increasingly detached from national feeling of any kind—from Dorit Zameret's The Wheat Sprouts Again, a heartbreaking elegy to the fallen of 1973's Yom Kippur War, to Amit Farkash's A Million Stars, the most popular memorial lyric to emerge from the 2006 Second Lebanon War. Implicitly setting themselves against the excesses of ideologically-mobilized verse, these and other personalized expressions of grief cause one to wonder how Israel's national consciousness can recover the crucially necessary tools for integrating past and present, the individual and the collective.
Still, new syntheses do emerge. One sort surfaced this year in Rona Kenan's Songs for Yoel, a cycle of lyrics about the death of her turbulent father in which personal loss is set against the backdrop of decades of Israeli political and cultural history. Another, very different kind was undertaken by Rabbi David Buzaglo, a great paytan, or religious troubadour, who before immigrating to Israel from Morocco in 1965 composed the recently rediscovered Binu Na Mordim ("Wise Up, Rebels"). Writing in explicit counterpoint to Guri's Bab al-Wad, Buzaglo criticizes the harsher edges of the Sabra ethos while weaving modern Israel's losses into the fabric of both history and tradition, the terrible pain of the bereaved into the sacred solace of peace.
COMMENTS
Comments are closed for this article.