Sir Moses Montefiore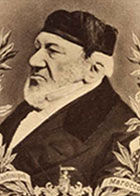 The name alone conjures up story-book images of a horse-drawn carriage from which a pious Victorian benefactor alights to bribe a local official, endow an orphanage, or dedicate a windmill. Abigail Green's brilliant new biography—elegantly conceived, exhaustively researched, crisply written—presents a far more complicated and fascinating picture.
Montefiore was born in 1784 to a family embedded in the cosmopolitan network of merchant Jews linking London, Livorno, Amsterdam, and the New World: a Sephardi diaspora well-placed for the opportunities presented by the liberalizations of 19th-century Europe. Montefiore made deft use of the new dispensation, at first to make his fortune through his own talents and his marital ties to the Rothschilds and then to undertake a career of charity and activism on behalf of his fellow Jews.
Establishing himself early on as a leader of Anglo-Jewry, Montefiore, an inveterate traveler, undertook with his wife Judith countless trips all over Europe, North Africa, the Middle East, and the Ottoman Empire. Their purpose was both to support local Jews and, more ambitiously, to win them greater political and social rights. This latter was a tall order—it took decades for British Jews themselves to achieve full civic equality. Montefiore scored his biggest success when, in the wake of persecutions of Damascus Jews after the blood libel of 1840, he won a royal firman granting equality to Ottoman Jewry.
Here as elsewhere, Montefiore's actions reflected his triple identity: a Jew seeking to improve the lot of his people, an Englishman seeking to further the Empire's interests in the east, and a humanitarian seeking to establish basic principles of justice and equality across national borders.
The last is among the most thought-provoking threads in Green's richly-drawn tapestry. For centuries, Jewish communities had offered each other mutual support and protection. But now the combination of new technologies (telegraph, newspapers, steamships) with democratic politics and the desire of British and French imperialists to see themselves as forces of progress gave a new complexion to self-help.
Like the Court Jews of old, Montefiore gained entry to palaces and ministries by dint of his wealth and connections; unlike them, he credibly represented not only Jewish concerns but national interests and enlightened public opinion. In his unrelenting philanthropic efforts, too, he was a transitional figure. His efforts in Palestine went beyond traditional alms-giving to the building of institutions; at the same time, for better or worse, he avoided imposing Western rationalism and discipline on his local beneficiaries.
By the time of his death in 1885, Montefiore had achieved a hitherto unimaginable degree of celebrity and public adulation. Both his successes and his failures were intimately connected to the emergence of transnational humanitarianism and the first stirrings of global Jewish politics in the modern era. Today's circumstances are very different, the challenge of leadership the same and no less urgent.
COMMENTS
Comments are closed for this article.