Britain and Israel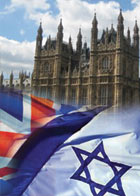 Prime Minister Gordon Brown went to Buckingham Palace yesterday to ask Queen Elizabeth to dissolve parliament on April 12. New elections will take place on May 6. At the moment, the Conservative party under David Cameron is leading Brown's Labor party in the polls; the Liberal Democrats, headed by Nick Clegg, are in a strong third position.
The sun may have set on the British Empire, but the U.K. continues to exercise considerable influence in the international arena. Britain is a major force in the European Union and a permanent member of the UN Security Council; it plays a leading role in NATO and the 54-nation Commonwealth. It also remains a world financial center and, through the BBC, wields considerable "soft power" worldwide.
As for its relations with Israel, trade now stands at £2.3 billion annually. But politically the country has been an indifferent friend at best, funding a dozen advocacy organizations that press Jerusalem to soften its security policies.
What would a change in government mean for British-Israel relations? Probably not a great deal—all three parties are on record as favoring Israel's withdrawal to the 1949 Armistice lines. Still, significant differences are discernible in the parties' approach.
Labor: Brown has close personal ties to the Jewish community; his father, a Presbyterian minister, was chairman of the Church of Scotland's Israel Committee. Foreign Minister David Miliband is a non-practicing Jew who recently ordered an Israeli diplomat expelled in connection with Israel's alleged forging of British passports in the assassination of Hamas arms smuggler Mahmoud al-Mabhouh. Justice Secretary Jack Straw has refused to modify the country's Universal Jurisdiction law, invoked to threaten visiting Israeli officials with arrest on "war crimes" charges. The Labor party essentially accepted the Goldstone Report on the 2009 Gaza war. Last week, Britain merely abstained in the UN Human Rights Council vote demanding that Israel pay reparations to Gaza.
Several Labor back benchers are notorious Israel-bashers. Gerald Kaufman has compared IDF soldiers to Nazis; Martin Linton warned that Israel's "long tentacles" could warp the outcome of the coming elections. A group with the name Labor Friends of Israel has called on the government to pressure both Israelis and Palestinians "evenhandedly."
Liberal Democrats: Clegg has urged Britain to stop selling weapons to Israel. MP Paul Rowen is one of parliament's most ardent supporters of the Palestinian cause. And former MP Jenny Tonge, now in the House of Lords, declared it was worth investigating whether IDF aide workers in Haiti were actually harvesting organs for transplant. On the plus side of the ledger, the party recently authorized a support group to foster better relations with the Jewish community.
Conservatives: The tone of party pronouncements on Israel are notably sympathetic. William Hague, a former party leader and now Shadow Foreign Secretary, criticized Labor for not voting against the Goldstone Report. There are promises to modify the Universal Jurisdiction law.
Britain's Jewish community of 300,000 souls holds sway in perhaps a half-dozen of the country's 646 constituencies. While there are just four Muslim MPs, politicians are mindful that the overall Muslim population stands at 2.4 million. Most Jews will likely vote their economic and social interests, though a vocal minority can be expected to support the Tories purely because of Labor's shabby treatment of the Jewish state.
COMMENTS
Comments are closed for this article.