The Courage of the Ordinary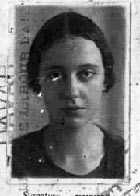 Leah Goldberg, whose tender, compelling voice created its own register in modern Hebrew literature, died forty years ago today. The anniversary is being marked in Israeli newspapers and by the radio stations that for years have broadcast the music made of her poems.
Born into a Lithuanian Jewish family in 1911, she arrived in Tel Aviv in 1935; in 1952, she moved to Jerusalem, where she lived and taught until her death in 1970. Astoundingly prolific, she published—on top of ten collections of poetry—novels, plays, criticism, children's books, and diaries, and translated into Hebrew from seven different languages. A number of her unpublished works have entered the public domain over recent years, two of them just this week.
With Natan Alterman and Avraham Shlonsky, Leah Goldberg was a leading figure of the so-called "second generation" of modern Hebrew poets. Unlike them, she eschewed politics and ideology, as well as extravagant symbolism. Her modernism expressed itself in a mix of formal poetics and conversational style, rich in allusions to Bible, mythology, and European classics, yet intimate and spare. She especially made a space in Hebrew letters for the European landscapes left behind, and for a poetic imagination in which public concerns yielded pride of place to childhood, nature, and love.
COMMENTS
Comments are closed for this article.