Perfidious Albion?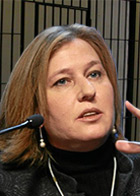 The British government's announcement on Tuesday that it would no longer tolerate the legal harassment of visiting foreign officials put a halt to speculations of an arrest warrant for Tzipi Livni, Israel's former foreign minister and now leader of the opposition in the Knesset. But it has not ended the uproar over Israel's alleged war crimes—Ms. Livni vocally supported her country's invasion of Gaza to stop rocket fire by Hamas—or over the principle of "universal jurisdiction" invoked by judges hoping to hold foreign (read, Israeli) dignitaries for prosecution.
On one Arab website, an Israeli musician living in England lambastes the British government for acquiescing in Israel's racist and expansionist aims; a writer in Al Jazeera seconds the thought, and warns of the consequences. The columnist Richard Falconer, a partisan of universal jurisdiction, would nevertheless draw a distinction in the Livni case; to Con Coughlin's mind, Israeli leaders are undoubtedly brutes but they are not war criminals.
A powerful English voice on the other side is George Walden, a former member of parliament and minister of higher education; like-minded American analysts include Alan Dershowitz and John Bolton.
For prophetic arguments against the foreseeable perils of universal jurisdiction, and of an international criminal court like the one founded in 2002, a pair of articles from a decade ago offer instructive reading.
COMMENTS
Comments are closed for this article.