Ardor, or Architecture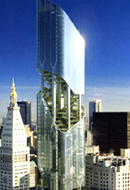 A look inside three of the twentieth century's most interesting careers in architecture: the world-renowned Israeli Moshe Safdie, on the verge of shutting down the office he opened in Jerusalem in 1970; the Polish-born, polarizing Daniel Libeskind, now at work on rebuilding New York's World Trade Center; and the mythic postwar master Louis Kahn.
In videos by the TED conference series, while Safdie and Libeskind appear to tell their own tales, Kahn is evoked in excerpts from a documentary by his son—a conflicted portrait that calls to mind Yeats's apothegm that "man is forced to choose / Perfection of the life, or of the work." —The Editors
Moshe Safdie on Building Uniqueness
To Safdie, the enterprise of architecture is, at bottom, a search for that most unfashionable of concepts: beauty.

Daniel Libeskind's 17 Words of Architectural Inspiration
"We applaud the well-mannered box. But to create a space that never existed is what interests me."

Nathaniel Kahn on Louis Kahn, "My Architect"
"He paid his life for this."
COMMENTS
Comments are closed for this article.