Ron Silver's Risk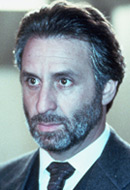 Three years ago today, Ron Silver—actor, director, producer, radio host, and political activist—died of esophageal cancer at the age of 62. Today he is sorely misremembered; but his legacy is worth fighting for.
Relevant Links
Politics and Hollywood
Ron Silver
,
C-Span.
In a wide-ranging discussion, Silver speaks about the role of the entertainment industry in public policy and popular culture. (Video interview with Jeff Greenfield)
No Conservative
Mark Steyn
,
National Review.
Ron Silver wasn't a conservative. He was a liberal who couldn't see why liberalism required submission to a profoundly illiberal enemy.
No Nexus
Paul Lester
,
Jewish Chronicle.
Asked to what degree his Jewish beliefs affected his acting, Silver replied: "To a zero degree."
He began his public career as an actor; and his successes in theater, film, and television were unparalleled. He had three Emmy nominations, including one for his celebrated role in The West Wing. His memorable performance as Alan Dershowitz helped Jeremy Irons win an Oscar for Reversal of Fortune. Silver's definitive depiction of Charlie Fox in David Mamet's play Speed-the-Plow won him a Tony Award in 1988, when he beat out the great Derek Jacobi. Silver did not rest on these particular laurels. Instead, what he called his "marquee moment" gave him the hunger to make his mark in the world beyond acting.
Silver was a true child of New York City. He grew up on Avenue A and attended the East Side Hebrew Institute, then Stuyvesant High School. His proximity to Chinatown set him to learning Mandarin at an early age; he was also fluent in Spanish. An intellectual in the enlightened European Jewish mold, he once put his acting career on hold for a couple of years to immerse himself in the oeuvre of Freud for a one-man show that would never materialize.
Silver served three terms as president of the Actors' Equity union, spanning the decade from 1991 to 2000, and had plenty of liberal bona fides. The AIDS crisis crystallized his unwavering support for both universal health care and equality for gay men and women; he was talking about gay marriage before most people had ever even heard of the idea. Alec Baldwin, with whom Silver founded the Creative Coalition, an entertainment industry political action group, credited Silver with saving the National Endowment for the Arts when it came under assault by conservatives in 1989.
But Silver belongs in the illustrious company of those who—like George Orwell, Arthur Koestler, and Christopher Hitchens—underwent what Gramsci called a "transformiso." He supported the first Gulf War; he relayed that Susan Sarandon said it was just because he was a Jew. After September 11, 2001, Silver finally left the Democratic party and became what others called a "9/11 Republican" (Silver's own term was "revolutionary liberal"). He was fiercely attacked by his fellow entertainers. Silver, after all, was no Bruce Willis, Clint Eastwood, or Kevin Costner: This was "one of us"—a big-city neurotic Jewish intellectual—abandoning ship. When Silver was denounced for supporting the "War on Terror," he never felt the need to tout his considerable liberal credentials.
As Silver's brother Mitchell Silver, a lecturer in bioethics and philosophy of religion at Tufts University, pointed out, "Ron's politics were not shared by anyone he knew." But they were consistent, echoing a pre-war European social democracy that fused the care and inclusion of the most vulnerable with resistance to the most aggressive and pernicious. The link between Silver's support of universal health care and gay equality and his opposition to Islamic fundamentalism lay in his defense of the body of social values underlying the moral strength of a democratic society.
I met Ron Silver in the late winter of 2005-6. He was planning to write a treatise on the Hollywood/D.C. nexus (like his one-man show on Freud, it never materialized) and needed an all-around researcher, editor, and writer, a role that I played for Silver until his death. I was already a fan of his acting; but from our first lunch, I could see that his readiness to part ways with his old Hollywood crowd was due in part to his need for a more highly charged and creative intellectual environment. His eyes were so intense you really did think he was actually seeing more than everyone else. His relentless intensity never wavered.
Ron saw politicized Islamic fundamentalism as the successor to the other totalitarianisms of the 20th century, Nazism and Stalinism. (For his book, Ron wrote a chapter on the Stalinist espionage that successfully infiltrated the United Nations and even the New York Times, as well as other highly regarded institutions.) The question is whether Islamic fundamentalism actually deserves this characterization. It may be that Ron's politics resemble those of the German Social Democrats who voted for war credits in 1914 because they saw in the war a chance to end anti-Semitic Tzarist terrors. How could they have known that World War I would unleash the horrors of the 20th century? Ron's position may turn out to be a similar mistake, or it may be too early to tell.
But Ron was a Jew in the fullest sense. His Dershowitz performance alone—Dayenu!—would have assured him a hallowed place in the annals of American Judaica. (Dershowitz himself said, "Al Pacino would have been almost as good.") Ron gave the only performances of some of the most fascinating Jews of the 20th century, including Henry Kissinger. He starred in the film adaptation of the Isaac Bashevis Singer novel Enemies: A Love Story. He played "Asa Kaufmann," a composite of the many Jewish screenwriters blacklisted in the 1950s; Ron himself would arguably have a similar experience during the twilight of his career. But he wasn't afraid to point out that Steven Spielberg and Tony Kushner had doctored the ending of the film Munich: Far from moving to Brooklyn, as in the movie, the real-life character played by Eric Bana went on to lead a tank battalion in the Yom Kippur War.
As Ron's health deteriorated, he said that though he was being denied the last third of his life, he'd had quite a full two-thirds. If he had a notable weakness, it was that his strengths lay in so many disparate places. His political language spoke of moral values without coming from an overtly religious place. He was a model of unconventional and unpredictable thinking. He was not afraid to make mistakes, but he took his leaps with great humility. He made those leaps in a dramatic fashion, to the dismay of many; but we—a "we" that includes Hollywood, the Jewish community, and all who care about politics and art—are poorer without him.
Adam J. Sacks is a writer living in New York. This Monday, he will be speaking at New York's Center for Jewish History on "Christianity in Music and Bach into the Synagogue: Jewish Wagnerians Respond."
COMMENTS
Comments are closed for this article.