Celebrity Politics, Israel-Style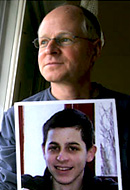 Just two weeks ago, the always-excitable Israeli political world was abuzz with the news of two famous new Knesset candidates. One of them was a famous son—journalist Yair Lapid, whose father, Tommy Lapid, served as Deputy Prime Minister and Minister of Justice under Ariel Sharon. The other was a famous father—Noam Shalit, whose son, Gilad, had been ransomed by the Israeli government three months before. Polls initially predicted that the two new celebrity politicians would dramatically rearrange the Israeli political landscape.
But the excitement has already subsided, and the latest polls indicate that the impact of the two men will be far less than anticipated. What does their rapid rise and fall tell us about the Israeli electorate? What are they looking for in an elected leader, and does either of these men have it?
Over the past decade, Israelis have grown used to seeing Yair Lapid just about everywhere in the media. The author of seven books and two plays, he hosts an eponymous talk show on Channel Two and a popular Friday night news magazine program. He also writes a column for Yediot Ahronot. His move into politics was seen as so inevitable that a bill—the "Lapid law"—was introduced in the Knesset to keep him from using his media platforms for campaign purposes. The bill would have required journalists to observe a one-year "cooling-off" period before running for office, but it was shelved when Lapid pre-empted it by announcing his retirement from journalism and the beginning of his campaign.
Lapid explained his decision in his newspaper column: "I'm going into politics because I think that the kind of discourse taking place in Israel is leading this country to oblivion and I want to change it." To do so, he is starting his own centrist party. He says he will take some time before the elections to "study the political theater" and write a detailed party platform. The director of Hiddush, a group promoting religious freedom in Israel, predicted that Lapid's candidacy could begin "the end of the dominion of the Haredi parties" in Israel.
In contrast, Noam Shalit's announcement of his candidacy caught many off guard. After his son was kidnapped over five years ago, Shalit responded with strength and resilience, working tirelessly to build a national consensus and twist the arms of Israel's politicians. He emerged from the harrowing ordeal as a reluctant national hero, the shy engineer who was thrust into spotlight to save his son and established a genuine personal connection with many of his fellow citizens in the process. Everyone expected that with his son released, Noam Shalit would leave the public eye.
Instead, Shalit held a press conference to announce that "after years of public campaigning" for his son's release, "during which I got to know Israeli society thoroughly in all its beauty and ideology, I have decided to join public activity." He explained, "I want to serve the public and be where I can influence the character of Israeli society." He will run with the Labor Party, which is struggling with internal conflicts and public indifference. He pledged to leave his son out of his campaign.
Despite their vastly differing routes into politics, Lapid and Shalit share some notable characteristics. Lapid has proven to be his father's son: Like Yair, Tommy Lapid began his public career in journalism, as a columnist for Maariv, before moving to broadcast journalism, playwriting and, eventually, electoral politics. As for Noam Shalit, he will always be his son's father; it is impossible to imagine that he will ever eclipse Gilad as the most famous and beloved Shalit in Israel.
Noam Shalit has already been accused of attempting to turn his son's ordeal into personal political gain. The Israeli news network Ynet called Shalit's candidacy a "blatant, cynical exploitation of the abduction." But the more substantive concern about Noam Shalit lies in the fact that he has given no evidence of coherent political beliefs. He has apparently been a member of Labor since 1996; but as a public figure, the most we can say about Shalit is that he really loves his son. What are his thoughts on Iran, the housing crisis, or the Tal Law governing the religious exemption from military service?
And—the question will surely be asked—what will MK Shalit do about the next kidnapped Israeli soldier? What if Hamas demands territorial concessions this time, or a Palestinian Law of Return? For that matter, can Shalit credibly comment on national security at all, when his philosophy of "home at all costs" necessarily imperiled it?
Ironically, Lapid's political views, for all his hours before the camera and years of newspaper columns, are almost as murky as Shalit's. It is difficult to pin down Lapid's position on any number of pressing issues. It is safe to say he will support strict separation of religion and state and attempt to minimize Haredi influence, but he remains a question mark on basic economic and defense questions. Likud's Moshe Feglin calls Lapid a man "who does not say anything" and whose choices are based on "ratings and not reality." Maariv editor Shai Golden says Lapid's hidden, often contradictory beliefs make him a "dangerous man."
According to the latest polls, Lapid and his party would likely get 13 seats in an election, down from 20 two weeks ago. This would put Lapid in a tie with Noam Shalit's static Labor Party for a distant third place. Most of Lapid's support would come at the expense of the current leading opposition party, Kadima, which is predicted to lose 17 seats. Meanwhile, Likud is expected to pick up six slots and could maintain its current coalition, including the Haredi parties.
In short, Lapid will nab some moderate votes; but he and Shalit will leave the larger political landscape mostly unchanged. There is some comfort in the polls' suggestion that Israeli voters, after a flurry of celebrity-gawking, may expect something like "actual substance" from their elected representatives. Do Lapid and Shalit have it? We shall see.
Micah Stein studied economics at Yeshiva University; he is currently a fellow at the Tikvah Fund.
COMMENTS
Comments are closed for this article.