Yair Lapid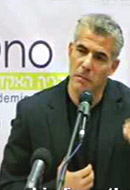 Yair Lapid's Religion
Tuesday, February 19, 2013 by
Elli Fischer
| Jewish Ideas Daily » Daily Features
In a speech to haredi students last year, Yair Lapid advocated a shared public sphere in Israel that is neutral on questions of religion.  Does he now have the chance to implement his vision?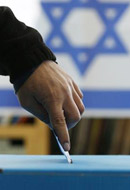 Why Israel's Gaze Has Turned Inward
Thursday, January 31, 2013 by
Yiftach Ofek
| Jewish Ideas Daily » Daily Features
"It takes two to tango," goes the oft-quoted idiom.  Without a reliable Palestinian partner, the Israeli public seems to have chosen to dance with itself.