Women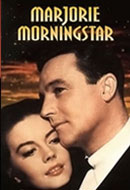 Good Girl Gone Bad
Wednesday, May 22, 2013 by
Margot Lurie
| Jewish Ideas Daily » Daily Features
Among the highlights from our archives is this reflection on Herman Wouk's "plucky, unlucky" heroine Marjorie Morningstar by former editor Margot Lurie, first published October 18, 2010.
Naso: When Wives Go Astray
The straying wife of Num. 5:13—was she "seized" or was she "caught in the act"? (Click here for source sheet.) Download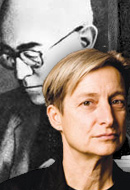 Adorno, Butler, and the Death of Irony
Friday, September 28, 2012 by
Alex Joffe
| Jewish Ideas Daily » Daily Features
Irony cannot exist in isolation; something is ironic only in relation to a larger pattern of events or behavior. Every three years, the city of Frankfurt awards its Adorno Prize to honor scholarly achievement in philosophy, music, film, and theater.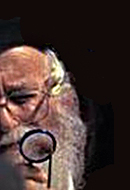 Story Master from Ashkenaz
Today, the use of literary theory and criticism to study Midrash and Aggadah—non-legal and interpretive rabbinic literature—is a well-established and even popular endeavor.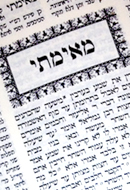 The Daily Page: A "Siyum"-posium
Thursday, August 2, 2012 by
Jacob J. Schacter
,
Yoel Finkelman
,
Michael Carasik
,
Tzvi H. Weinreb
,
Devora Steinmetz
,
Moshe Sokolow
,
Yehudah Mirsky
,
Mark Gottlieb
,
David Glasner
,
Aryeh Tepper
,
Marc B. Shapiro
,
Gil Student
,
Emanuel Feldman
,
Alon Shalev
,
Viva Hammer
,
Shlomo Zuckier
, and
Saul J. Berman
| Jewish Ideas Daily » Daily Features
UPDATE: New posts as of 8/3/12, 1:11 a.m.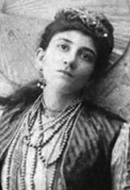 The First Lady of Fleet Street
Monday, April 23, 2012 by
Susan Hertog
| Jewish Ideas Daily » Daily Features
Her story is as old as Eve—lust for knowledge and power, disillusion, tragedy and rebirth—and as new as the modern world's technologically based global empires. It begins in the ghettos of Frankfurt and the cities of ancient Babylonia and ends in the mansions of Mayfair and country estates of England.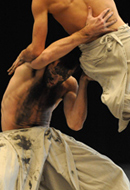 Jumping with Dance
Thursday, October 28, 2010 by
Margot Lurie
| Jewish Ideas Daily » Daily Features
"I don't like that people think Israel: war, guns, army. This doesn't really color who we are."  Thus speaks Ohad Naharin, artistic director of the Batsheva dance company, which recently completed a triumphantly successful round of performances in New York. To tell the story, and the significance, of modern dance in Israel is indeed to add a bright and distinctive hue to the "color" both of the state and of its cultural achievements, among which Batsheva occupies a place of shining honor.
Good Girl Gone Bad
Monday, October 18, 2010 by
Margot Lurie
| Jewish Ideas Daily » Daily Features
Fifty-five years ago, a star was born: plucky, lucky Marjorie Morningstar, the "American Everygirl who happens to be Jewish." At least, that's how Time described her. Today, depending on whom you ask, Herman Wouk's 1955 novel, Marjorie Morningstar, is either the story of the romantic awakening of a blue-eyed Jewish beauty or a cautionary tale about what happens when you stray too far from your origins.