Welfare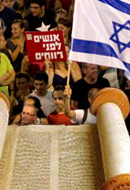 God the Economist
Monday, May 13, 2013 by
Joshua Berman
| Jewish Ideas Daily » Daily Features
The Occupy rallies of 2011 were the largest Israel has ever seen.  As I looked at the young couples in Tel Aviv protesting the inaccessibility of housing they could call their own, I thought of the land tenure reforms of Leviticus. 
Editors' Picks
Faith and Family
Mary Eberstadt
,
Standpoint
. "The welfare state has been an ineffective and hideously expensive substitute for the fractured Western family.  If the churches are to succeed, they must compete successfully against it."
The Indignity of Dependence
Jonathan Sacks
,
Huffington Post
. "Judaism recognizes that unemployment has a psychological as well as economic dimension.  As a matter of religious principle, job creation must be at the center of any long-term welfare policy."