University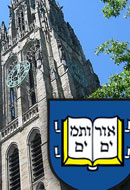 Anti-Semitism and Man at Yale
Tuesday, May 21, 2013 by
Alex Joffe
| Jewish Ideas Daily » Daily Features
Continuing our retrospective, we revisit Alex Joffe's critique of the unwillingness of Western universities to confront contemporary anti-Semitism, first published June 13, 2011. 
Editors' Picks
Teaching Like Strauss
Lee Trepanier
,
Imaginative Conservative
. Countering the scientization of the academy, Leo Strauss defended philosophy as the route to understanding "the dignity of the mind," and thereby "the true ground of the dignity of man."
Putting a Price on Philanthropy
Daniel Pipes
,
Philanthropy Daily
. As university faculties become increasingly hostile to Israel, Jewish philanthropists who want to give Zionism a voice on campus need a better strategy.  Here is one idea.
Does Harvard Favor Jews?
Andrew Gelman
,
AndrewGelman.com
. Commentators hailed Ron Unz's recent
article
claiming that today's Ivy League universities underrepresent Asian-Americans and overrepresent Jews.  But his calculations don't add up.