Tzipi Livni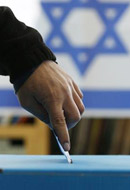 Why Israel's Gaze Has Turned Inward
Thursday, January 31, 2013 by
Yiftach Ofek
| Jewish Ideas Daily » Daily Features
"It takes two to tango," goes the oft-quoted idiom.  Without a reliable Palestinian partner, the Israeli public seems to have chosen to dance with itself. 
Editors' Picks
Bad Day for Bibi?
David Horovitz
,
Times of Israel
. "For all that this is not the government he would have chosen, it still finds Netanyahu where he wanted to be: at the center of a coalition that runs from Jewish Home to his right to Hatnua at the center-left."
The Leftist Alternative
Evelyn Gordon
,
Jerusalem Post
. While Netanyahu looks certain to lead Israel's next government, he favors a new coalition with the center-Left.  But that prospect may hinge on the electoral success of Am Shalem. 
Bloc Parties
Jonathan Rynhold
,
Atlantic
. Far from guaranteeing a resounding victory in the elections, Netanyahu's decision to create a rightist bloc provides an opportunity for parties on the Left—but only if they remain separate.