Tosafists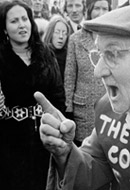 Is Judaism a Proselytizing Religion?
Friday, October 19, 2012 by
Shlomo M. Brody
| Jewish Ideas Daily » Daily Features
When Mitt Romney became the Republican Presidential candidate, some of the media attention focused on his experience as a Mormon  missionary in France and asked, subtly or not so subtly, whether a member of a proselytizing religion could properly lead a pluralistic society.
Editors' Picks
Britain's Masada
Alan Shaw
,
Jewish Chronicle
. This week in 1190, 150 Jews were besieged in York Castle by a local mob—and, at the bidding of their rabbi, chose to take their own lives rather than die at the hands of their enemies.