Sudan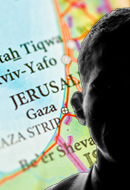 Israel's Friends in Gaza
Thursday, November 29, 2012 by
Alex Joffe
| Jewish Ideas Daily » Daily Features
Hamas was quick to declare victory in the latest conflict with Israel.   A closer look at the price it paid in terms of personnel and equipment shows that its bravado was false.
Editors' Picks
Wingate of Zion
Max Boot
,
Weekly Standard
. Israel remembers Orde Wingate for turning Jews in Mandate Palestine into a fighting force—as T. E. Lawrence had done for the Arabs.  But Wingate's legacy stretches further still.
Why Strike Sudan?
Max Fisher
,
Washington Post
. Although Israel's supposed attack on a munitions depot in Sudan could have been a straightforward strike on a potential threat, media observers are determined to believe that it meant something deeper.