Stalin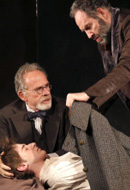 The Twenty-Seventh Man
On the night of August 12, 1952, a group of Yiddish writers was executed on Joseph Stalin's orders for the crime of writing while Jewish.  The executions were the tragic culmination of the grand romance between Jewish intellectuals and Marxism.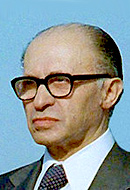 The Peacemaker
Monday, November 26, 2012 by
Seth Lipsky
| Jewish Ideas Daily » Daily Features
About Menachem Begin the thing that I remember most was the way he talked.  Begin wouldn't say that he was born on the eve of the First World War; he'd say, as he did when a group of us from the Wall Street Journal interviewed him in 1981, that he was born "into" World War I.  
Editors' Picks
From Dogma to Dissent
Benjamin Ivry
,
Forward
. Vasily Grossman is now lauded as a dissident writer who dared to speak out against the USSR and reveal Stalin's oppression of Jews. But he started out as a willing Soviet apologist.