Spain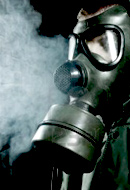 Chemical Warfare in the Middle East: A Brief History
Thursday, December 13, 2012 by
Alex Joffe
| Jewish Ideas Daily » Daily Features
At this time of Hanukkah's memories of Syrian tyrants past, the Syrian tyrant present, Bashar al-Assad, has reportedly assembled chemical weapons for use against the rebellion.
Editors' Picks
The Storyteller's Gift
Robert Pinsky
,
New York Times
.
Retrospective
, the new novel by Israeli writer A.B. Yehoshua, "undertakes to conjure nothing less than the enigmatic, irresistible majesty of the past that governs human action."
Right of Return: Me, Too
Soeren Kern
,
Gatestone Institute
. Spain has offered citizenship to descendants of Jews expelled in 1492.  But Spain also expelled Moorish Muslims—and their North African descendants are crying foul.
Inquisition Tourism
Hilary Larson
,
Jewish Week
. Five hundred years after the expulsion of Jews, and twenty since their official readmittance, scarcely any Jews live in Spain today. But a new tourist campaign hopes at least to bring them back on vacation.