Seleucids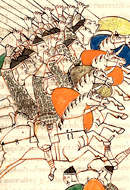 The First War of National Liberation
The Maccabees' revolt can lay claim to being the first war of national liberation.  Reprinted here is Diana Muir Appelbaum's account of why the Book of Maccabees is so modern and so dangerous.
Editors' Picks
The First Hellenist
Stephen Gabriel Rosenberg
,
Jerusalem Post
. The Maccabees warred against the Seleucids and their Hellenized Jewish allies.  But Judaean Hellenism began earlier, under the Ptolemies—and was not so bad for the Jews.