Second Amendment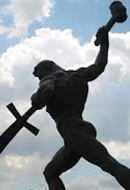 Gun Control, Halakhah, and History: Further Thoughts
Tuesday, January 22, 2013 by
Shlomo M. Brody
| Jewish Ideas Daily » Daily Features
While the use of weaponry is at times morally necessary, the glorification of weaponry is foreign to Jewish thought.
Editors' Picks
Misuses of the Holocaust
Peter Berger
,
American Interest
. "Is the Holocaust of European Jewry during World War II an absolutely unique event?  Or may it properly be used to refer to other events of mass massacres?"