Ronald Reagan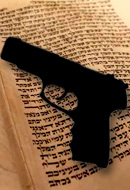 Gun Control and the Limits of Halakhah
Wednesday, January 9, 2013 by
Shlomo M. Brody
| Jewish Ideas Daily » Daily Features
Rabbinic disputes on the proper regulation of dangerous dogs illustrate that reasonable people, who share Jewish values regarding violence and self-defense, can disagree about gun control.
Editors' Picks
How We Freed Soviet Jewry
Allison Hoffman
,
Tablet
. Twenty-five years after 250,000 Americans gathered in Washington to demand freedom for the
refuseniks
, participants reflect on how momentous their march turned out to be.  (Oral history)
No Child Left Behind
Avital Chizhik
,
Forward
. While many Russian Jewish immigrants to America are staunch conservatives, their children's route to Americanization is through liberal Jewish politics.