River Jordan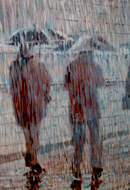 When Prayers for Rain are Answered
Friday, January 11, 2013 by
Alex Joffe
| Jewish Ideas Daily » Daily Features
Israel is, in most minds, an arid land bereft of water, not cursed with its superabundance.  But a look at geography and history suggests otherwise.
Editors' Picks
Something In the Water
David Newman
,
Jerusalem Post
. This winter's heavy rains gave Israel a brief respite from water scarcity, but the country's water conservation policy is overdue for reform.