Rain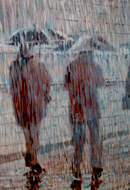 When Prayers for Rain are Answered
Friday, January 11, 2013 by
Alex Joffe
| Jewish Ideas Daily » Daily Features
Israel is, in most minds, an arid land bereft of water, not cursed with its superabundance.  But a look at geography and history suggests otherwise.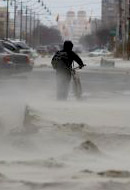 A Jewish View of Hurricanes
Thursday, November 1, 2012 by
Moshe Sokolow
| Jewish Ideas Daily » Daily Features
With school closed, transportation suspended, and the local park off limits, I cast about for something other than "work" to fill the day.  My thoughts turned to the weather, and I asked myself whether Judaism has anything instructive to say about hurricanes.
Editors' Picks
Rain Check
Arnold A. Lasker
,
Daniel J. Lasker
,
Conservative Judaism
. The date on which we begin praying for rain is based on Iraqi agricultural cycles and a calendar mistake.  But it's not likely to change before the Messiah comes.