Queen Victoria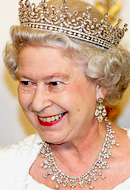 The Queen's Jewry
Monday, July 23, 2012 by
Ben Elton
| Jewish Ideas Daily » Daily Features
In the history of the British monarchy, there have been only two Diamond Jubilees.  Last month, Elizabeth II celebrated sixty years on the throne. In 1897 Queen Victoria marked the same milestone. To mark Victoria's Jubilee the communal leader Lucien Wolf published an article that set out the progress that Jews had made during Victoria's reign.
Editors' Picks
Mapping the Holy Land
Matti Friedman
,
Times of Israel
. Founded in 1865 to explore "the land to which we turn as the fountain of all our hopes," the London-based Palestine Exploration Fund completed its survey in June 1914.  One month later, war began.