psychoanalysis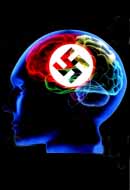 Evil and Id
Wednesday, July 11, 2012 by
Ben Cohen
| Jewish Ideas Daily » Daily Features
In Freud's Last Session, Mark St. Germain's superlative play about a hypothetical encounter between Sigmund Freud and C.S. Lewis, there is a telling moment when the founder of psychoanalysis admits that he was slow to grasp the boundless evil of Nazism: "It took near tragedy for me to see Hitler for the monster he is."
Editors' Picks
"The Myth of Mental Illness"
Holly Case
,
Aeon
. Jewish psychiatrist Thomas Szasz denounced his field as "a threat to civil liberties" and stated that "Freud and the psychoanalysts" had replaced "the totalitarian leader and his apologists."