Old City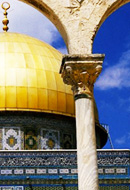 Seeking the Peace of Jerusalem—or a Piece of Jerusalem?
Thursday, January 17, 2013 by
Moshe Sokolow
| Jewish Ideas Daily » Daily Features
Archeology has become a full-fledged battlefield in the dispute over who has the superior claim to Jerusalem: Jews or Muslims.
Editors' Picks
Jerusalem Rebuilt
Nadav Shragai
,
Israel Hayom
. With the Hurva Synagogue in the Old City restored, Israel plans to rebuild the neighboring Tiferet Yisrael Synagogue, reclaiming another piece of Jerusalem's Ottoman-Era glory.