Norman Lamm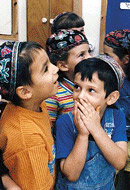 Denominational Delusions
Wednesday, February 6, 2013 by
Andrew Apostolou
| Jewish Ideas Daily » Daily Features
With synagogues closing, congregations ageing, and the non-Orthodox majority dwindling, American Jews are caught in a crisis. Yet no one is tackling the root of this problem: intermarriage.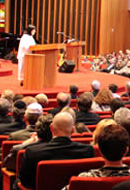 Can Reform Judaism Get Its Mojo Back?
Friday, November 9, 2012 by
Evan Moffic
| Jewish Ideas Daily » Daily Features
The American Jewish community as a whole cannot survive if there is no non-Orthodox movement to which American Jews can belong; in other words, survival depends on a strong Reform movement.  But in light of current trends, is that possible?
Editors' Picks
On Orthodoxy and Homosexuality
Alan Jotkowitz
,
Torah Musings
. While the halakhic prohibition on homosexual relations remains, several Orthodox rabbis have advocated  the communal acceptance of individual homosexuals.  But can the same be done with same-sex families?