Neil Armstrong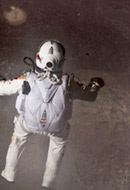 Did Red Bull Stratos Break a Halakhic Barrier?
Friday, November 2, 2012 by
Shlomo M. Brody
| Jewish Ideas Daily » Daily Features
Not long ago, much of the world watched as Austrian skydiver Felix Baumgartner jumped to earth in a record-setting free fall that broke the sound barrier.
Editors' Picks
One Small Step
Michael Pitkowsky
,
Menachem Mendel
. Neil Armstrong was more excited to walk the stairs leading to Jerusalem's Temple than to walk on the moon.