Nathan Englander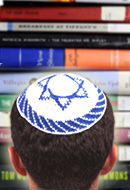 2012: A Year in Books
Wednesday, January 2, 2013 by
D. G. Myers
| Jewish Ideas Daily » Daily Features
Books are dying—everyone says so—but you couldn't prove it by the Jews. 2012 was a very good year for Jewish books: here are the best 40.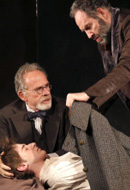 The Twenty-Seventh Man
On the night of August 12, 1952, a group of Yiddish writers was executed on Joseph Stalin's orders for the crime of writing while Jewish.  The executions were the tragic culmination of the grand romance between Jewish intellectuals and Marxism.  
Not Everything is Illuminated
Tuesday, April 10, 2012 by
Ben Greenfield
| Jewish Ideas Daily » Daily Features
Judaism is famously infatuated with text; and the New American Haggadah, with contemporary authors Jonathan Safran Foer and Nathan Englander listed as editor and translator, respectively, is the latest in a long line of love letters by Jews to their object of adoration.