NASA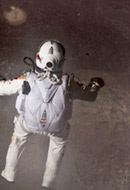 Did Red Bull Stratos Break a Halakhic Barrier?
Friday, November 2, 2012 by
Shlomo M. Brody
| Jewish Ideas Daily » Daily Features
Not long ago, much of the world watched as Austrian skydiver Felix Baumgartner jumped to earth in a record-setting free fall that broke the sound barrier.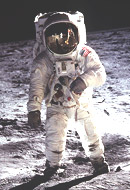 Mensch in the Moon
Tuesday, February 14, 2012 by
Josh Gelernter
| Jewish Ideas Daily » Daily Features
Right now there are two Americans aboard the International Space Station, and their only way home is to hitch a ride in the Russians' Soyuz capsule, a ramshackle remnant of the 1960s. There's no space shuttle to bring them home because the shuttle's been retired; also retired are plans for an American return to the moon.
Editors' Picks
skyTran!
Abigail Klein Leichman
,
ISRAEL21c
. While Jerusalem has taken a decade to build a tramline, Tel Aviv is set to be the first city in the world to pilot NASA's space-age rapid transport system.