Nachmanides
Emor: Saying Without Speaking
This time, when Moses speaks to Aaron, he must say it—and say it again. (Click here for source sheet.) Download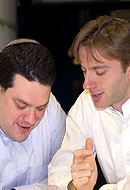 If I Forget Thee?
Tuesday, January 15, 2013 by
Allan Arkush
| Jewish Ideas Daily » Daily Features
As a recent seminar at New York's Mechon Hadar testified, throughout Jewish tradition, everyone—even the anti-Zionists—recognizes that the Land of Israel has more sanctity than any other place.  But what follows from that?