Music
It Sounds Better in Amharic
Thursday, August 26, 2010 by
Aryeh Tepper
| Jewish Ideas Daily » Daily Features
In his one-man play, It Sounds Better in Amharic, the Ethiopian-born Israeli actor Yossi Vassa humorously contrasts life in the old world and the new, mulling over the differences between traditional and modern ways of dating and the respective virtues of traveling by donkey or Lamborghini. He also narrates his family's 400-mile journey from Ethiopia to Sudan—from where, in 1984, the Israeli air force flew 8,000 Ethiopian Jews to Israel. Vassa's family covered the 400 miles on foot, in three months. "Not to brag," he comments, "but it took the children of Israel 40 years."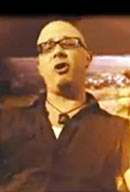 Psalms for the Perplexed
Wednesday, August 18, 2010 by
Yehudah Mirsky
| Jewish Ideas Daily » Daily Features
Some mainstream Israeli musicians have recently been turning for material to religious texts; others have become immersed in the musical traditions of Sephardi Jewry. The two trends have come together in a new album, Mizmorei Nevukhim ("Psalms for the Perplexed"), by Kobi Oz.

Who Can Retell?
Tuesday, December 15, 2009 | Jewish Ideas Daily » Daily Features
Among the holidays of the Jewish year, Hanukkah may surpass even Passover in the sheer number and variety of the songs devoted to recalling, retelling, and rejoicing in the events of the past and their evergreen message. For American Jews of a certain age nostalgic for their childhood, Diane Ashton deftly surveys the English-language ditties of the 1950's, from "Who Can Retell" to "I Had a Little Dreydl" and beyond. Today's casual consumers have their pick of dozens of new CD's in English, Yinglish, and Hebrew, folk, rock, and heavy metal, many of them rivaling the Christmas market for kitsch. But...