Mumbai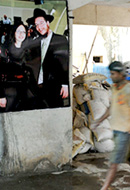 The ISI and the Jews
Thursday, January 3, 2013 by
Alex Joffe
| Jewish Ideas Daily » Daily Features
Pakistan's intelligence agency has supported Al Qaeda, Iran, and Lashkar-e-Taiba—the terrorists who attacked Mumbai in 2008, killing six at Chabad.  But the U.S. still treats it as an ally.
Editors' Picks
Immunity for Terrorists?
Anirban Bhaumik
,
Deccan Herald
. The 2008 Mumbai terrorists killed over 150, including Chabad hostages.  Victims' families have sued Pakistan's secret service for its role.  The State Department wants to grant it immunity.