Moshe Isserles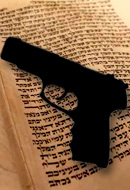 Gun Control and the Limits of Halakhah
Wednesday, January 9, 2013 by
Shlomo M. Brody
| Jewish Ideas Daily » Daily Features
Rabbinic disputes on the proper regulation of dangerous dogs illustrate that reasonable people, who share Jewish values regarding violence and self-defense, can disagree about gun control.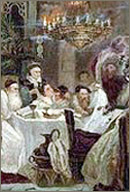 Out of the Well of the Past
Monday, August 2, 2010 by
Yehudah Mirsky
| Jewish Ideas Daily » Daily Features
Jewish history was once regularly portrayed as a march from pre-modern stasis to modern revolution and change. This picture held its attractions, offering clearly marked battle lines for later proponents on either side of the ongoing ideological struggles between traditionalists and modernizers. By now, however, we have been well instructed in the deceptive simplicity of all such efforts to impress order on the relentless flux of history, which so often dissolves the closer we look at it.
Editors' Picks
Costume Customs
Akiva Males
,
Tradition
. For Purim, Renaissance halakhist Moshe Isserles justified a custom breaching the prohibition on wearing clothes combining wool and linen.  Where did this custom come from?  That's what Mordecai wore.