Mishkan
Tzav: Out of the Frying Pan, Into the Fire
Wednesday, March 20, 2013 | Jewish Ideas Daily » Weekly Portions
Two kitchen utensils — and the surprising verses they lead us to elsewhere in the Bible. (Click here for source sheet.) Download
Vayikra: Meat & Meal
Three surprising words — two of them English — for an offering made of flour. (Click here for source sheet.) Download  
Vayakhel-Pekudei: Completing Creation
It\'s a fundraiser\'s dream: The people have to be told to stop bringing gifts for the Mishkan. (Click here for source sheet.) Download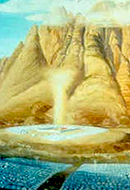 Endearment in the Wilderness
Friday, July 27, 2012 by
Moshe Sokolow
| Jewish Ideas Daily » Daily Features
First of all, let's stipulate that the midbar in Sefer B'midbar, the fourth of the five books of Moses which we have just finished reading, is not necessarily a desert. 
Editors' Picks
A Sweet Aroma For the Lord?
Gil Student
,
Torah Musings
. Was incense in the
mishkan
and the Temple intended as a way to respond to God's presence—or as a means to mask the stench of sacrificial slaughter?