Miriam
B'haalot'kha: Missing Miriam
Miriam—and how surprisingly little we know about her. (Click here for source sheet.) Download  
Tazria-M'tzora: Sin and Skin
Leprosy!  (Not.)  Is it caused by sin? (Click here for source sheet.) Download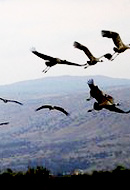 Shabbat Shirah: Song Takes Wing
Monday, January 21, 2013 by
Jerry Friedman
| Jewish Ideas Daily » Daily Features
Complementing the Song of the Sea, which will be read this Shabbat in synagogue, the Rabbis suggested a home-based ritual to celebrate Shabbat Shirah: feeding the birds.
Editors' Picks
Did Miriam Sing?
Gil Student
,
Torah Musings
. Because Miriam sang at the Red Sea, say some, it cannot be forbidden by halakhah for men to hear women's voices in song.  But did Miriam really sing?
Water of Life
Yonatan Neril
,
Torah Musings
. Far from the abundant water supplies of the Tigris, the Euphrates, and the Nile, Israel's reliance on rainfall is designed to remind us that all our needs depend on divine providence.