Media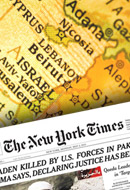 Signs of the Times
Thursday, February 7, 2013 by
Alex Joffe
| Jewish Ideas Daily » Daily Features
A new report by the Committee for Accuracy in Middle East Reporting in America is the latest in a long line to allege anti-Israel bias at the New York Times.  But the newspaper isn't about to change.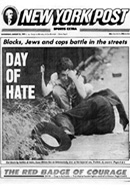 Crown Heights in the Mirror
Thursday, August 18, 2011 by
Alex Joffe
| Jewish Ideas Daily » Daily Features
On the evening of August 19, 1991, the three-car motorcade of the Lubavitcher Rebbe, Menachem Mendel Schneerson, entered the intersection of President Street and Utica Avenue in Brooklyn.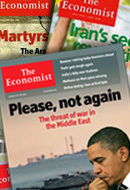 The Economist Strikes Again
Friday, January 7, 2011 by
Elliot Jager
| Jewish Ideas Daily » Daily Features
The Economist is a curious publication.  A weekly newsmagazine published in London, it largely hews to a classical liberal (or libertarian) line in economics and a correspondingly conservative line in politics. In contrast to most newsmagazines today, it is also a rousing success.