Marine Le Pen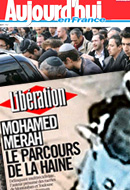 French Lessons
Wednesday, March 28, 2012 by
Simon Gordon
| Jewish Ideas Daily » Daily Features
The saga that captured headlines around the world last week came to an end when Mohamed Merah—who had murdered four people, including three children, at the Ozer Hatorah Jewish school in Toulouse, France—was shot dead by French police. Before his death, Merah told police negotiators that he was a member of al-Qaeda.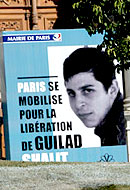 Shalit: The French Connection
Wednesday, October 26, 2011 by
Simon Gordon
| Jewish Ideas Daily » Daily Features
When Gilad Shalit was released on October 17, Israel was not the only country to welcome the liberation of one of its citizens. Although Shalit was born and raised in Israel, he also holds French citizenship, through his grandmother.
Editors' Picks
French Jews Under Fire
Liam Hoare
,
Jewish Chronicle
. One year after the Toulouse massacre, French Jews face increasing anti-Semitism from Muslims, and have few allies on either side of the political spectrum.